Product Description
Sice A926E CCD-Radio Wheel Alignment System
A very important point about this aligner is that it uses the same CCD heads as the Sice ADAS system, so if a work shop purchases this alignment system and in the future wants to purchases a Sice ADAS system (or ADAS system from any other Nexion Group company like Corghi, HPA, Mondolfo Ferro or Teco, as the are all the same system) they will already have the CCD heads and wheel clamps and some other items, and this will reduce the cost of the ADAS system by around 4500 euro,
Or if a workshop purchases the Sice ADAS system and then later wants to add full CCD wheel alignment, they will already have the 4 CCD heads and wheel clamps and some other items and they will be well on there way to having a full CCD wheel alignment system as well
About Sice:
Sice is a brand founded in 1964 and based in Correggio, Reggio Emilia, Italy
Sice manufactures tyre changers and wheel balancers for cars and trucks, along with wheel alignment systems and vehicle lifts, and its wide range of products meets the tyre servicing and workshop needs.
The patents for machines and accessories are numerous and guarantee the quality and uniqueness of Sice solutions.
Some Sice products have been approved and certified by prestigious car and tyre producers and certified bodys.
Over 85% of Sice sales are accounted for by exports to around 90 countries worldwide
Sice is a Nexion group company with more than 60 years of history, today the Nexion Group is a world leader in the automotive sector. Experience and continuous research into innovation now coexist in a single group, which brings together the sector's top brands in a solid and increasingly international company.
Nexion group companies:

The A926E aligner is the same high quality product as would be supplied by other Nexion group company's
New A926E CCD wheel aligner:
A 926E is a professional wheel aligner with 8 sensors for passenger cars and vans.

Features:
Wheeled and mobile, the aligner features an attractive design, a closable compartment for the colour printer and the PC, installed with multilingual Windows operating system
Measuring sensor with 2 high resolution cameras, electronic inclinometer and level
Wireless data transmission with 2.4 GHz industrial radio systems, type AA commercially available rechargeable batteries with recharger on the unit
Extremely compact and light sensor (just 3.2 Kg), the unit features an over size arm for large wheels
Extremely low light sensitivity for working even in very bright light conditions
Measuring sensor body in cast aluminium for extreme precision
Data bank with more than 40,000 vehicles, updatable every year
Run-out compensation with manual spin or raised wheels, real time measurement and adjustment of caster and king pin inclination (KPI).
Settings screens with animated cursors and coloured indicators for working at a distance from screen, results printout graphics.
Fast, precise and very reliable:
Made by Nexion Group Company
High quality components and modern design
User friendly software for precise and quick alignment measurements
A first class international based databank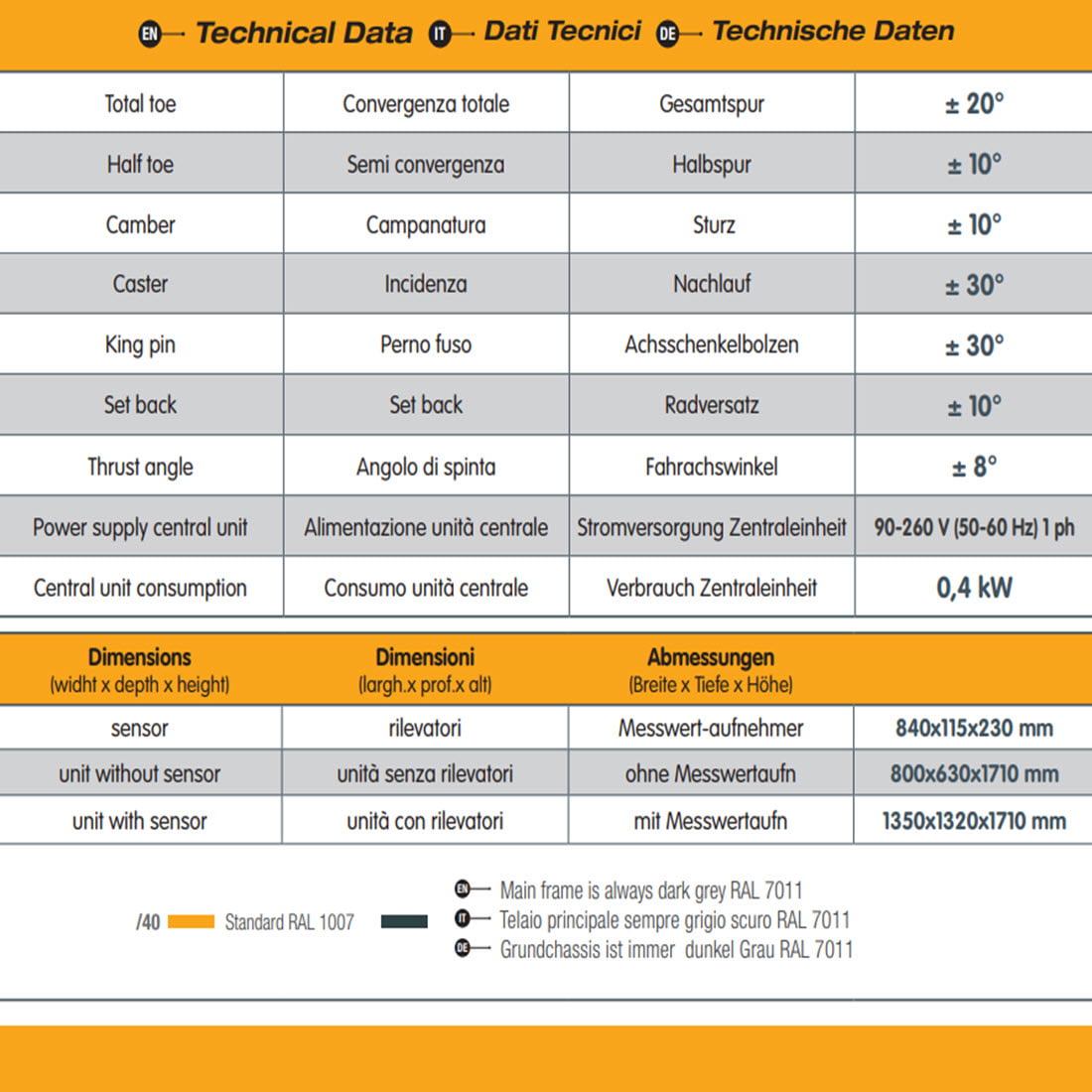 (note monitor, printer and mouse is not included and must be added as a option) 
A926E includes:
Main unit
PC with alignment software
4 heads
brake pedal depressor and steering lock
Recommended Accessories:
Monitor 19 inch
USB inkjet colour printer
Quick clamp 9" to 21" for cars
Wheel bracket 10" to 21" for car
Adapter for low body cars. L=55 mm
Adapter for low body cars. L=90 mm
All of the above packages includes:
Delivery
Set up
On site Training
Options:
Carbon wheel bracket 10" to 26" for cars
Wheel bracket 10" to 21 for cars with sliding pin
Clamp for BMW and MERCEDES cars
Set of 4 elastic cords suitable for all bracket types
Pair of adapters L=55 mm, BMW design
Adapter for trucks and buses, L=240 mm
4" extentions kit + truck adapter for one 10-26" bracket
Set of 4 double profile pins for wheel brackets
SCC double pins
Set of four Racing pin for truck wheel bracket
Adapter pin for MERCEDES original clamps & VAS 6041-6190-6430
Set of three 28" extensions for rapid clamps
Set of 12 pin extensions of 58 mm for rapid clamps
Set of 12 long pins (57 mm) for rapid clamps
Set of 4 safety connecting cords for sensors
Set of 4 PORSCHE adapter for clamps code 8-33100041
Set of 4 holders for car wheel brackets
Set of 4 wheel clamp universal supports for cabinet or wall
Wireless remote control kit (with 2.4 GHz industrial radio)
Various different types of turntables
NEXREMOTE The tablet is used as a remote control unit of the graphic user interface or as an additional portable monitor. It can also be used to show in real time to the customer the current vehicle status
Tecnomotor Diagnostic tools to perform steering angle calibrations after the wheel alignment and other multi brand diagnostic requirements, Click here for more info on the Tecnomotor diagnostic tool range
Please Contact us for more information or to arrange to see this unit working in our workshop