Product Description
Prodiags online training for training organisations
As well as supplying the online training modules for individuals the training modules can also be supplied in blocks of courses for schools and training centres
The packages for schools and training centres will have a special admin area (when a minimum amount of licences have been purchased) that the teacher/instructor can control, below are some of the features and advantages
Features and Advantages:
It allows the teacher to segment the class and rather than talk to everybody in the same way, you are able to segment your classroom and plan for students with different needs and abilities.
Save teachers/instructors time in content building
Makes teaching more independent of time and place and allows your students to study at any time and allows the instructor to monitor if they are studying or not
Communicate interactively with your students
Benefits for teachers/instructors:

Other features:
Teach: Everyone involved can participate at a time, and for a duration, that suits his or her schedules
Several tools are available to formulate questions and answers. The evaluation of the questions can either be automatically or manually as desired
You can optimize the timeliness and focus of the curriculum for you and your learners
Question Bank: Prodiags offers you a Question Bank system that allows the students to take web-based quizzes and exams, and then the instructor can access course reviews and previous exams results of his or her students
Reports: Prodiags provides you many other features useful for the administration of training programs beyond the basic tracking of data. Its LMS features include options for tracking your e-learning course activity, specifically for administering, tracking, reporting, and delivering e-learning courses or training programs
Inbuilt analytic tools that help you evaluate learners' responses to e-Learning on individual, group and class level
Track learners to find areas where you can improve the learning experience
Working Groups: Prodiags allows building of working groups and teams of learners enabling teaching according to their needs
You can build and manage groups and teams
Learning modules can be used with learners at many different levels
Communicate: Prodiags supports communication across multiple modes of media as well as be responsive and available in the ways that best suit your learners
You see the results of your learners in the Portfolio and can comment these individually
Information of learner and contact person via e-Mail
In case of changes or incidents you inform your learners with the help of SMS
Prodiags Admin Area:
Allows the teacher/instructor to control/view the following
Add users students
Add/edit teams/groups of students
Add/edit module participants
User study register
Edit user data
Reports of users
Exam results of users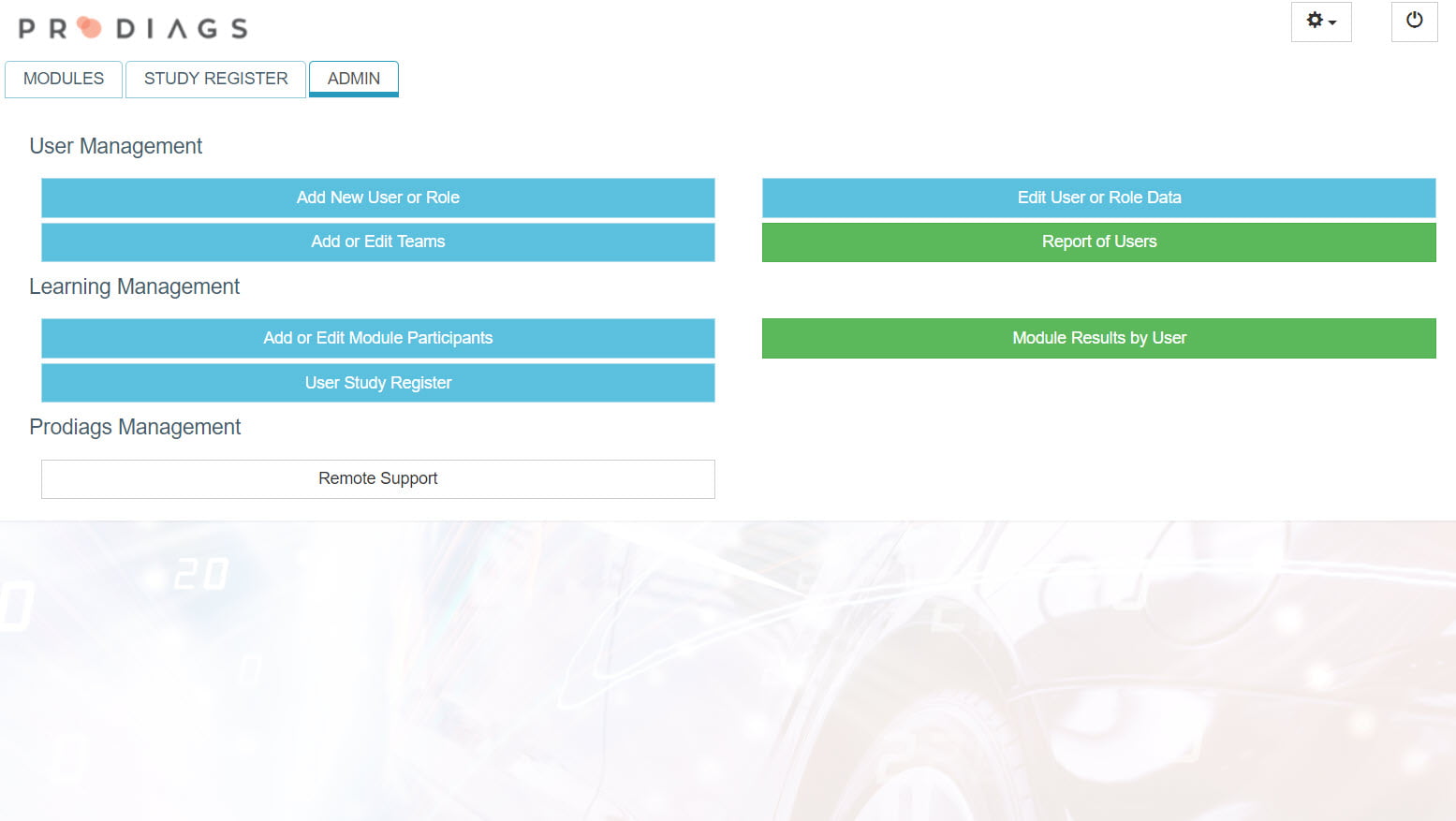 About Prodiags and HMV-Systems:
Since 1991 HMV-Systems has been supporting automotive education. Our main product is Prodiags – a virtual e-learning environment for automotive technology. We seek international growth in that business and to support this strategy, we have changed the name of the company from HMV-Systems Ltd to Prodiags Ltd.
They are based in Finland and are now translating there e-learning programs to English, German and other languages
They currently supply there e-learning systems to over 60% of technical colleges in Finland and Estonian are are also active in other countries to include Ireland, Germany and Africa
Prodiags have also provided training programs for the following car manufactures to include
Nissan
Kia
Hyundai
Peugeot
The course that are available in English at the moment are:
Common rail fuel system training
Diesel Exhaust Gas Technology
Tyre Pressure Monitoring Systems
Hybrid & Electric Vehicle Technology
 HV Vehicle Technologies – Toyota Prius PHEV 2014
Maintenance service
And more courses coming soon
Check out Prodiags website for more information https://prodiags.com/

Please enquire for more information if you are interested in Prodiags for your school or training or organisations